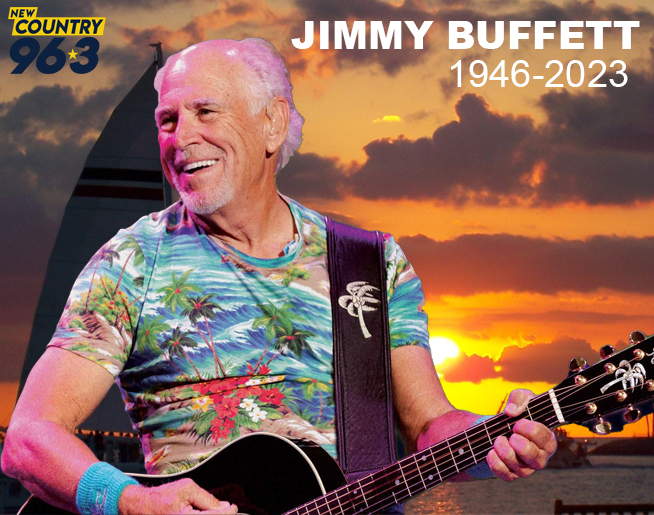 Jimmy Buffett, who spawned a movement with his own brand of island music that featured a laid-back lifestyle died September 1, 2023 according to a release from the family.
"Jimmy passed away peacefully on the night of September 1st surrounded by his family, friends, music and dogs," read a statement posted on his official website. "He lived his life like a song till the very last breath and will be missed beyond measure by so many."
No information was available on the cause of his death.
According to CNN, Buffett was briefly hospitalized in May following a trip to the Bahamas. "I had to stop in Boston for a check-up but wound up back in the hospital to address some issues that needed immediate attention," he told fans in a social media post.
CNN Continued: Buffett posted a day later that he was soon headed home from the hospital, and thanked his followers for the "outpouring of support and well wishes." He did not share what was ailing him, but said that he'd be going on a "fishing trip with old friends, along with paddling and sailing and get myself back in good shape" upon his return home from the hospital.
Born on Christmas Day in 1946 in Pascagoula, Mississippi, Buffett reminisced about arriving in the Florida Keys in approximately 1970, driving a 1946 Packard. It was during that decade that he discovered his musical calling, crafting relaxed, island-infused party melodies. The turning point arrived in 1973 with the widespread appeal of his hit track, "Why Don't We Get Drunk?"
By 1977, Buffett had ascended to pop stardom when "Margaritaville" stormed into the Top 10 charts. Over the ensuing decades, this song has served as the soundtrack to the Jimmy Buffet lifestyle.
His tropical music spawned a cult following that only grew over the years. His fans became known as Parrotheads and his concerts continued to sell out across the country.
"We were the social network before there was a social network on the Internet," Buffett told the Dallas Morning News in 2012 according to the Associated Press. "They had something in common; they shared things. They started dressing up because they were listening to the music. It was the common bond."
In more recent years, Jimmy Buffet returned to the country music charts featuring duets with Alan Jackson, The Zac Brown Band and George Strait.
Jimmy Buffett credited his success in part to Texas' own Jerry Jeff Walker. Buffett spoke to Texas Monthly about the relationship. "Jerry Jeff introduced me to Freddie Neil [who had just had a big hit with "Everybody's Talkin'"]. He was probably Jerry Jeff's favorite friend and songwriter. He was the real, real deal. There were all these other people coming through town—David Crosby, Rick Danko, Elaine "Spanky" McFarlane, Joni Mitchell, a lot of people getting out of the cold weather and coming to Miami. For me as a nobody, I couldn't get over my luck, meeting all these people. That's what Jerry did for me—because I was with him, that gave me some significance that I really didn't deserve at the time.
Business triumphs quickly outshone record sales for Buffett. According to his official website, the inaugural Margaritaville establishment sprang to life in Key West, Florida, in 1987. The chain expanded to encompass 16 venues, and a significant partnership emerged as Harrah's Entertainment, Inc. collaborated with Buffett to develop the impressive $700 million Margaritaville Casino & Resort in Biloxi, Mississippi, close to his hometown.
Notwithstanding his remarkable commercial accomplishments, Buffett's enduring legacy, as he himself expressed it, revolves around "helping people forget their troubles for a couple of hours."
In a 1999 interview with the Baltimore Sun, the singer shared that his optimistic outlook on life resonated with fans who found solace in the humor and escapism woven into his work. He embraced this role because, in his view, the world was already replete with an abundance of serious subject matter.
As Buffett aptly put it, "I was the life of the party."
-By Geoff Allen Petrulis, Cumulus Media