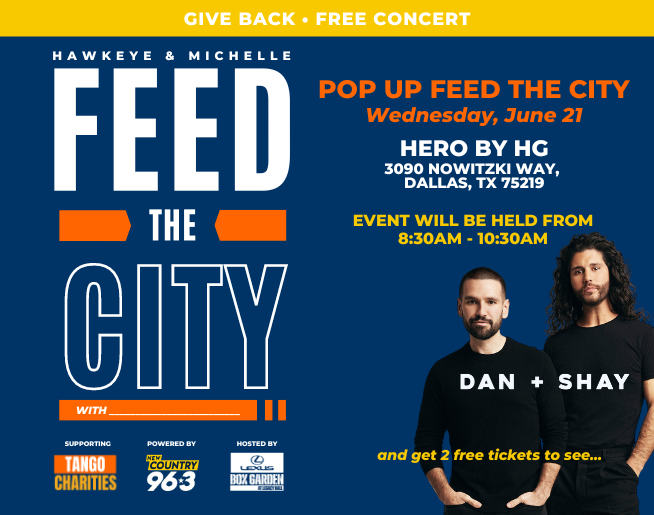 (This is the FAQ Page – Click Here for the main Feed The City Page)
Help Feed The City with Hawkeye & Michelle & Tango Charities, and you could receive two tickets into our Exclusive Show with Dan + Shay at the Lexus Box Garden at Legacy Hall!
Each week we'll announce a new location where you can sign up to volunteer!
Feed the City is supporting Tango Charities, CLICK HERE to find out more!
How can I get tickets to see Dan and Shay?
To get you FREE Dan +Shay tickets, you must volunteer at one of our Feed the City Events and bring supplies to make meals.
Are there still slots to volunteer for this week? Can we still sign up?
The registration form is open on Monday's when we announce the new location. Once the slots fill up, we close registration. We will have another location next week once registration is full.
Where do I sign up to volunteer?
You can sign up here or at NewCountry963.com/FeedTheCity until registration is full and closes until the following Monday
After I sign up to volunteer, what will I need to bring?
Sliced bread preferably wheat, deli meat (ham, turkey or chicken only) sliced cheese, yellow mustard, chips, tangerines, ziplock bags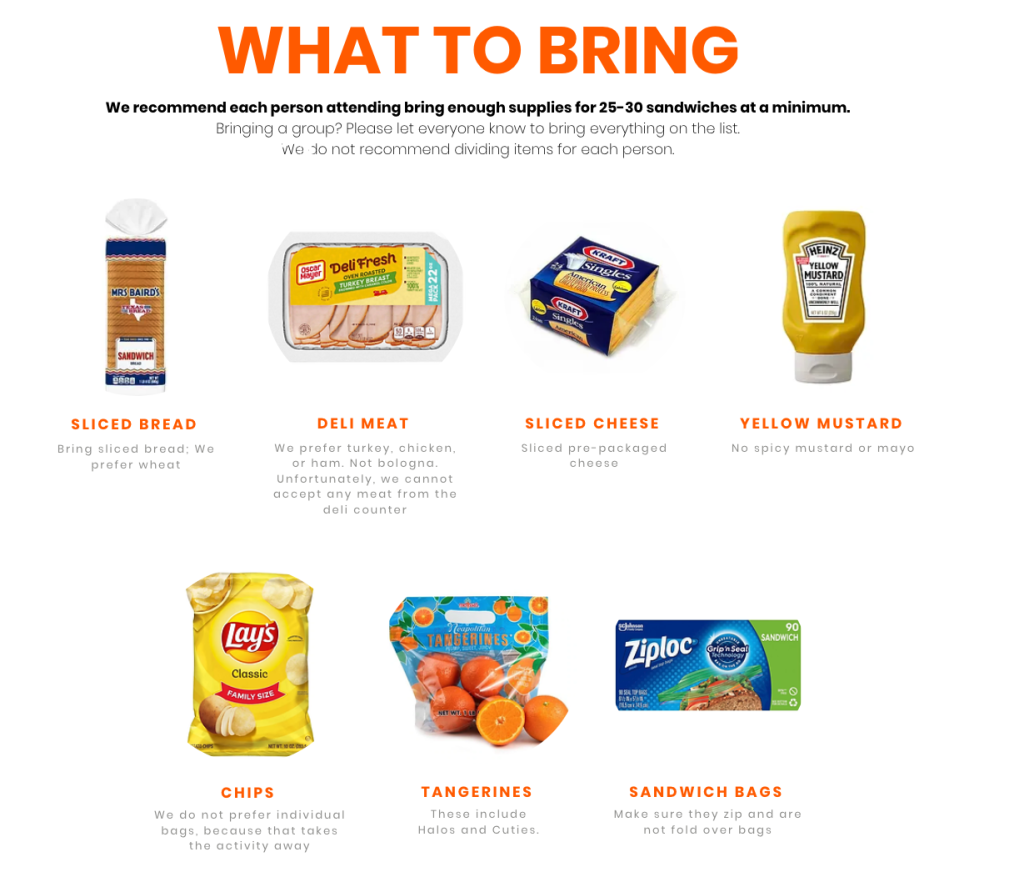 When and where do I go to make the meals?
After you volunteer, information of location of the Feed the City event will be sent to you via email, check junk and spam for that email.
How much are tickets?
There is no cost to the tickets. However we will ask you to participate in "Hawkeye and Michelle's Feed the City" along with our friends at Tango Charities.
Rather than volunteering, can I buy tickets with a donation?
Unfortunately, due to the limited amount of tickets for this special event, tickets will only be available for volunteers.
Where will the concert be be held?
The concert will be held at Lexus Box Garden at Legacy Hall in Plano
When will the concert be held?
The concert will be held in June. The exact date and time will only be know to ticket holders.
About Feed The City & Tango Charities
The first Feed The City happened in Dallas, Texas on Saturday, January 10, 2015. It was created after TangoTab broke the Guinness World Record for the Most People Making Sandwiches Simultaneously. Many participants wanted to do something similar on a regular basis and months following the event… Feed The City was launched.
Feed The City is a monthly volunteer opportunity where individuals come together at a local venue to make lunches for people in need. The lunches consist of sandwiches, chips, and fruit. Feed The City events are open to all.
There have been nearly 1,000 Feed The City events that have welcomed over 75,000 volunteers in 5 countries, 11 states, and 53 cities that have provided over 3 MILLION meals to people in need. The event is led and hosted by volunteers who are dedicated to the fight against hunger. Companies, religious groups, schools, and organizations have also hosted pop-up events in their communities.