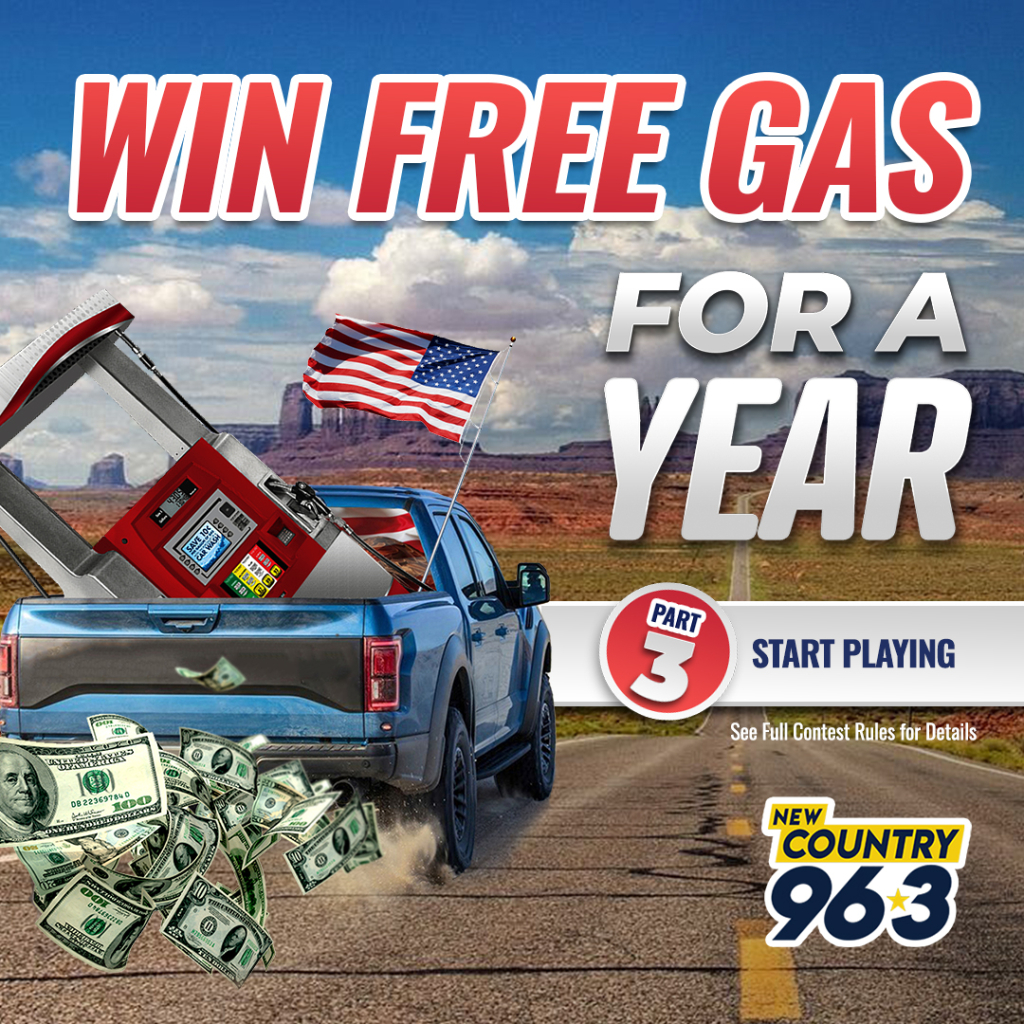 YOU'VE BEEN CHOSEN! We want to thank you for listening to New Country 96.3 with a new secret contest. As gas prices continue to rise, we are giving away FREE GAS FOR A YEAR (AGAIN)! The more you listen, the more chances you have to win. There are 12 CHANCES to win every weekday.
Here's How To Play
LISTEN:
Tune into New Country 96.3 Monday through Friday at :05 minutes after the hour from 7:05am to 6:05pm through Friday, September 30, 2022.
PLAY:
Listen for us to shout out [a town near you] . When you hear it, you can either text the city name to 20248 every hour for a chance to win OR you can enter that hour's city on this page (the form is below)! There are 12 CHANCES TO ENTER every weekday! Example: "We love our listeners in [Dallas]!Thanks for listening to New Country 96.3 in [Dallas] today!"
WIN:
One (1) Grand Prize Winner will Win Free Gas for a Year valued at $2,500. That winner will be announced on Monday, October 3, 2022, and that WINNER could be YOU!
Enter to Win Free Gas for a Year – Online Entry Option
Secret Contest
Win Free Gas for a Year with New Country 96.3 in Dallas, TX
About Us: New Country 96.3 is DFW's #1 Station for Today's Hottest Country
From Luke Combs to Carrie Underwood, from Morgan Wallen to Blake Shelton, New Country is the place. And of course, we're the home of Hawkeye in the Morning and our world-famous "2nd Date Update" weekday mornings at 8:20 am!
Full Contest Rules Are Here
For a complete set of rules, visit https://www.newcountry963.com/SecretContestRules
Additional Prizes
Walker Hayes – Play the Game and get into win Walker Hayes Tickets! For a complete set of rules, click here